Hardware recommendations for iPads and accessories.
iPad Pro's
We strongly recommend the most recent iPad Pro. They have the most available RAM that is what is most important in this use case. The screen size and storage memory are not significant for us.
iPad Pro's - Any screen size or storage capacity will work.
Apple Care - We also strongly recommend you get Apple Care.
2nd Gen Apple Pencil - This is required if your Anesthesia forms require handwriting. If your form is 100% discrete you do not need to purchase am Apple Pencil.
iPad Case
Cases can have a big impact on workflow. There is a lot of personal preference here but we like shockproof style case with a pencil holder in it. The large foam casing and handle are great for this use case. If you have questions about cases you think might work will please let us know. Below is an example of a few cases we like on Amazon.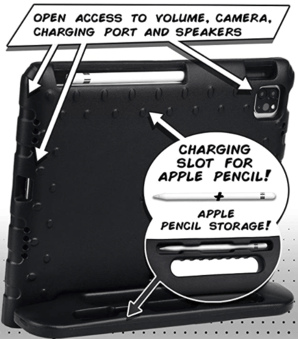 Other Options
iPad Screen Protector - We recommend a glass screen protector as they can easily be wiped clean with sterilizing wipes.
iPad Storage Cabinets - For a lock box, or simply a cabinet for central storage, we really like the simplicity of this Luxor cabinet. Can be wall mounted or sat on a desktop.

Printers - If printing is needed, then the printers on site must be AirPrint ready. If your printers do not have AirPrint and you need to purchase printers, the two that we like most are:
Mobile Device Management (AKA - MDM)
We like jamf Now Device Management - $3 per device per month over the first 3 devices. There are plenty of other options and it is up to the group or local IT.