Below are the instructions for everything you need to know for submitting CPT codes for MACRA 2021
Objective
Prepare and Submit all case data for 2021 with CPT codes into Graphium.
Goals
Add CPT codes to 2021 cases in Graphium using billing data
October 2021 - Import Q1-Q3 2021 CPT codes for your Graphium cases.
January 2022 -Import Q4 2021 CPT codes for your Graphium cases.
Directions
Prepare CPT Import File(s)
Click here to download the necessary Excel template file.
Use the excel template to create a new "CPT Import File" from your billing data. Here are some very important key points in formatting your file:

Each case can only appear once in the file and must include all associated CPT codes.
Each "CPT Import File" should only contain data from a single Facility.
If your facility has a a high volume, it is recommended that each "CPT Import File" also only contain data for a single month or quarter as this will improve the user experience as you manage the results of the matching process.
Fields in CPT Import File must be formatted correctly. For example:

The ASA CPT code must 5 digits, including any leading 0's. "00790" is NOT the same as "790". In Excel, this can be formatted as a "Custom" format of "00000"

Date of Service needs to be formatted as YYYY-MM-DD.
Anesthesia start time needs to be formatted as HH:MM:SS

You can run as many concurrent CPT imports as you need.


Once billing data has been added, use "Save As" within Excel to create a comma-delimited file type (.csv) of the "CPT Import File". Please note, Excel file types (.xlsx) are not supported with the Graphium CPT Code Importer tool.
Below are the matching scenarios that will be attempted during the import: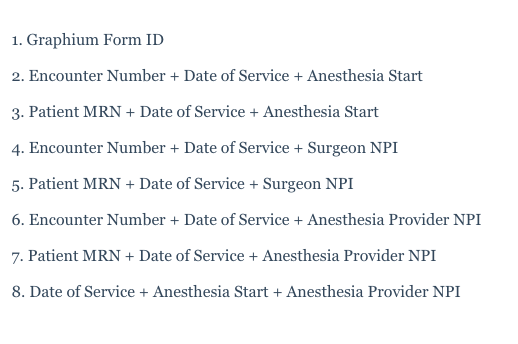 Upload CPT File(s) to Graphium
Log into app.graphiumemr.com
Click on "+ New Import"



Click on "CPT Import 2021"

Choose Facility - The title for your import will default to the filename you selected, but you can optionally enter a different title. Once you choose your facility click on "Create." (A link to the CSV template is here as well.)

UPLOAD: Click on "Upload data from file" and use the file explorer to locate your file and upload. Once you select the file it will automatically upload. (Optionally, you can manually enter the data on this page)

MATCH: Confirm or edit mapping of columns. If a column contains no data you can also click on "ignore this column".



REVIEW: If formatting of the .csv file is an issue this step will highlight those errors. NOTE: This is to highlight formatting errors, not match accuracy. Use the toggle button in the top left labeled "Only show rows with problems" to view only the rows with issues.

COMPLETE:

Review
From the Import Batch screen click on "View Details" for your uploaded file.

On the import details screen the two columns to observe closely are the

status column

and the

action column

. The information in those columns will tell you the next step in the review process. Your data may need to be reprocessed, ignored, or edited. Our recommendation is to use the filter for "Match Error". NOTE: You can also refresh the screen to monitor the import as it progresses.